Similar scent: Lancôme La Nuit Trésor
Regular price
£12.30
Sale price
£9.84
Unit price
per
On sale
Sold out
To add to cart, go to the product page and select a purchase option
Fragrance composition

Top notes: black rose
Middle notes: vanilla, orchid
Base notes: incense, papyrus, lychee, chocolate
Fragrance category: oriental
Our products are eco-friendly

For the manufacture of our perfume packaging, we use recycled paper as well as paper from tree plantations specially grown for this purpose. We take care of our planet. Read more
Cruelty-free

"Cruelty-free" means that our perfumes are created respecting all living beings. No animal testing is performed at any stage of development of our products. We are committed to producing in an ethical and responsible manner.
Vegan

"Vegan" indicates that our perfumes are 100% free of animal-derived ingredients. From development to production, we ensure that every aspect is respectful of animals and the environment, offering true ethical peace of mind.
Long-lasting fragrance up to 24 hours

"Long-lasting fragrance up to 24 hours" means that our perfumes have been carefully crafted to offer a persistent scent throughout the day. With just one application, you can be sure that your favorite fragrance will accompany you from dawn until night.
Travel size

"Travel size" refers to our mini-sized perfumes, perfect for taking with you everywhere. Whether you're traveling or need a quick touch-up during the day, our compact and practical bottles cater to all your on-the-go needs.
Incredibly low prices

"Incredibly low prices" means that we are committed to offering superior quality perfumes at a price accessible to all. We believe everyone deserves to feel good without spending a fortune. Enjoy our luxurious fragrances without compromising your budget.
Other perfumes with similar notes

Examples of products from different brands with similar perfume notes are:
Neness Nexora
Embrace a starry night, where a story of absolute love takes place. The fragrance composition of Neness Nexora women's eau de parfum blends with your skin to give it intense sensuality and depth.
exquisite composition with woody and oriental fragrance notes
for women who, even in modern times, believe in true love
perfect especially for evening occasions
Fragrance composition
First, perfect impression is created by a burst of delicious raspberry and a note of black rose, which after a while sensually mingles with chords of vanilla and orchid, slowly giving way to them. The whole is tied together by a composition of smoky accents of incense, papyrus, lychee and delicious pralines.
View full details
Top quality

Amazing scents

Long-lasting

Unbelievably low price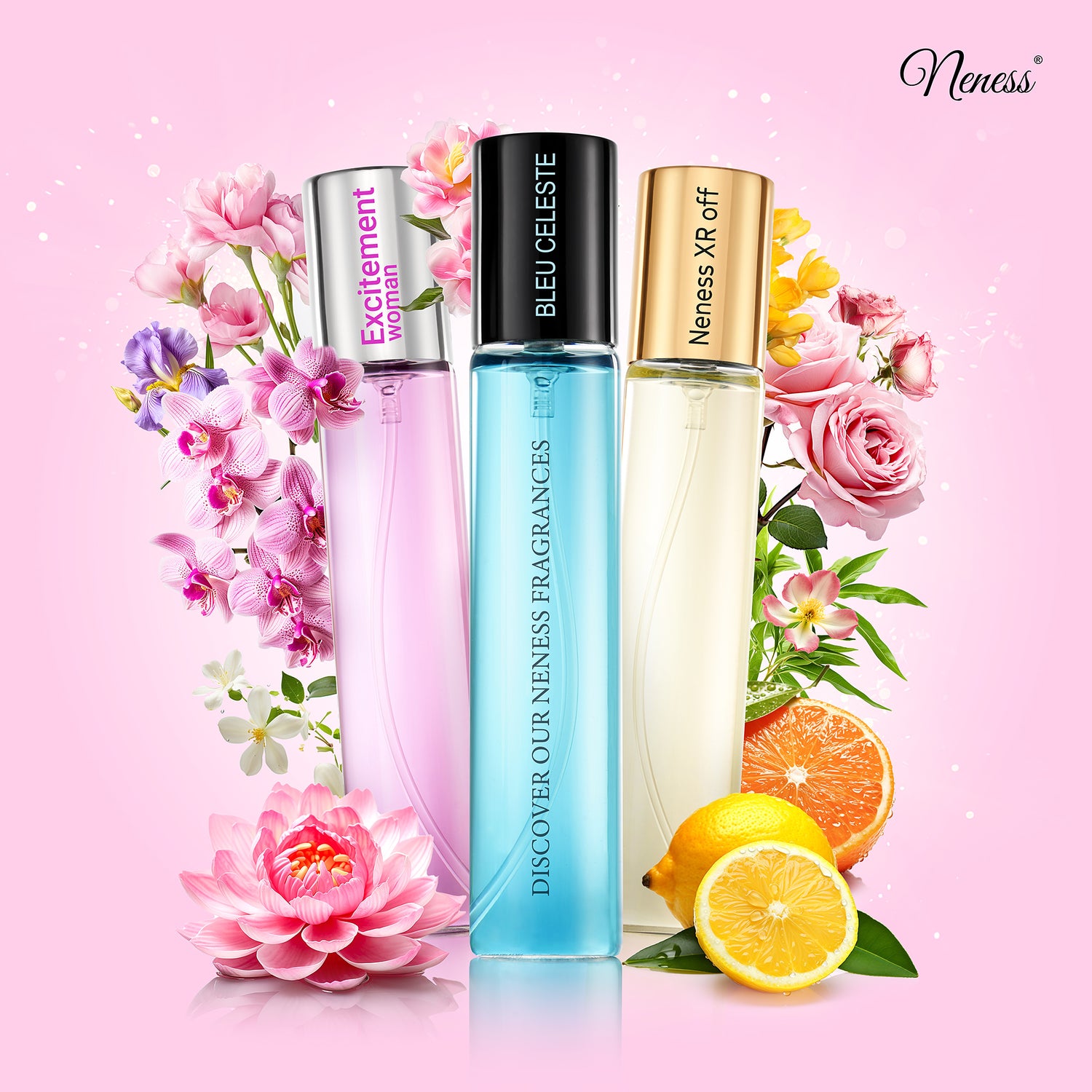 Neness perfumes improve people's lives in a small but powerful way.
We use the highest quality French fragrances in the manufacturing process.
With the high content of fragrance oils and the careful production process, our fragrances last a very long time - up to 24 hours.
Our perfumes are:
Vegan
Cruelty-free
Not tested on animals
Fast and affordable shipping

We will send your order by your favourite courier

Safe shopping

Your data is protected by an SSL certificate

High production quality

We use the highest quality French fragrances in the manufacturing process

Hassle-free returns

If not satisfied, you can return the product within 30 days
Why buy Neness perfumes?
Read product reviews and see that Neness® fragrances are worth buying.
A wonderful, sensual smell! I highly recommend it
A beautiful and lasting smell.
Great perfume, they last a long time
I heartily recommend.
I do not have any remarks
Durable and beautiful smell (practically 1 to 1 with the original)
I recommend.
Great fragrances, durable
Discover the world of Neness fragrances
Frequently Asked Questions
What are Neness perfumes and what sets them apart?

Neness perfumes embody the essence of luxury and refinement at an affordable price. Our unique fragrances combine exceptional longevity, beautiful olfactory notes, and unparalleled quality. With our perfumes, you can feel like a star on the red carpet without spending a fortune. Discover the secret of our fragrances and realise that beauty and elegance are within your reach.
Why are Neness perfumes so attractively priced?

Neness perfumes are attractively priced because the brand's aim is to provide high-quality fragrances that are accessible to a wide audience. In this way, everyone can enjoy luxurious scents without having to spend large sums of money.
Are Neness perfumes suitable for people with allergies?

Neness perfumes are designed for a wide audience, however, each case of allergy is individual. We recommend that you consult the list of ingredients and test the perfume on a small patch of skin.
Are Neness perfumes tested on animals?

No, the Neness brand cares about animal welfare and does not test its products on animals.
How long does the scent of Neness perfume last?

The scent of Neness perfume stays on the skin for a long time thanks to its exceptional durability. However, the duration can vary depending on the individual characteristics of the skin and external conditions. Nevertheless, according to our customers' reviews, Neness perfume is noticeable throughout the day. We encourage you to test it for yourself.
What sizes are available for Neness perfumes?

Neness perfumes are available in a 33 ml size, which is ideal for everyday use and for travelling. If you are interested in other sizes, we invite you to discover our 365 Days perfumes in a 50 ml size and Roll On in a 10 ml size.
Can I return Neness perfume if it does not meet my expectations?

If Neness perfume does not meet your expectations, please contact customer service for information on the possibility of returning or exchanging the product. You can also find detailed information on returns and exchanges in the terms and conditions and return policy of the online shop. Remember that returns are free and you have 30 days to do so.
Are Neness perfumes eco-friendly?

Yes, Neness perfumes are eco-friendly. We focus on packaging made from eco-paper and cardboard, produced from recycled materials and trees specially planted for this purpose. This helps to reduce our impact on the environment. We act with the Earth in mind and strive to minimise our carbon footprint.
Are Neness perfumes vegan?

Yes, all Neness perfumes are 100% vegan. We ensure that our products are free from animal-derived ingredients, so that everyone can enjoy our fragrances, regardless of their lifestyle.
Are Neness perfumes cruelty-free?

Absolutely! The Neness brand is proud to be cruelty-free. We do not test our products on animals and we do not collaborate with companies that do.
Are Neness perfumes suitable for travel?

Yes, Neness perfumes are perfect for travel. Their 33 ml size means they are easily portable in your carry-on or toiletry bag. This is what we call a travel size, which proves practical in any location around the world.
Do Neness perfumes smell exactly like the perfumes of famous brands?

Our perfumes are not knock-offs. Neness is a proprietary brand with a registered trademark. Our perfumes reflect the scent notes of perfume brands known and loved worldwide. We offer you luxurious perfumes at an affordable price. Our customers' reviews are clear - our perfumes smell practically identical, and often the quality of the scent and its durability are far superior to those of perfumes for which you have to pay a fortune.